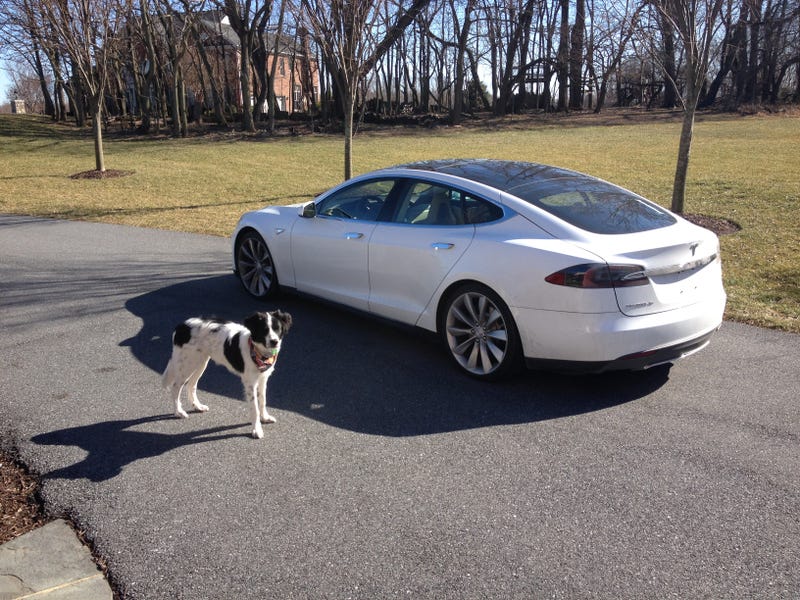 If we take the headline gist of the NY Times article – Tesla Model S Bricks in travel from DC to Boston – then yes @TeslaRoadTrip and XanderWalker proved him wrong.  If you really get into the article though, there are issues that XanderWalker barely touches on that are not disproven, and more so when you learn more about their trip from my brief interaction with them at the Delaware Travel Center.
My family and dog (yes, the one pictured in the original blog post – a border collie) took a trip from DC to north of Philly (181 miles) in the Tesla.  I charged to 240 before I headed out, thinking I would recharge in Delaware and have enough for the return trip to the station the next day.  When we arrived the @TeslaRoadTrip folks were charging (Thanks for staggering guys!) and I waited my turn. 
While I waited for a Tesla spot to open, one car stopped charging (in Bay 3 – my arbitrary naming) short of its intended goal.  They transferred over to another charging station (Bay 1), hoping it was a charging station that was in error, but the car refused to charge on the second one as well.  Meanwhile a Tesla that was charging in Bay 1 and moved to Bay 3 could no longer charge and went back to Bay 1 to try and charge.  Many phone calls to Tesla were placed.  I decided to move on rather than take my chances.  Bay 3 sounded like it was no longer charging and Bay 1 sounded iffy at this point.
Next day, very low on charge — had to go to a Walgreens EV charger to charge efficiently (12 miles charged per hour) — we called Tesla Support to find out what was going on in Delaware.  We were told that three of the four bays were not working and that a crew was being sent to fix it and to call back later.  I called back 90 minutes later and was told they were all fixed last night).  I had 75 miles left in charge for a 60 mile trip to the Delaware Travel Center and decided to go for it.  Luckily, I got to the station before the @TeslaRoadtrip folks returned.  Went to Bay 1 and waited 60 seconds for it to show no amps.  I then moved to Bay 4 and it worked perfectly — taking about 30 seconds for the car and "pump" to fully recognize each other and start pumping out electricity at a very impressive rate – well over 200 amps (I've forgotten the exact figure).  Probably 45 minutes later I received about 190 miles of electricity and was good to go.
In essence, when things go right, the Tesla Model S is a dream to drive and charging isn't a concern at all (it would have cost my Durango $140 for the round trip – 45 minutes or 75 is worth the money).  But if multiple cars appeared to not charge (if even for a moment) then it isn't something that an article should hide.  The point isn't even what the cause(s) of more than one car failing to charge – it could be human error, the car, the charging stations – rather it happened at all with more than one vehicle/owner.  Tech Support apparently didn't have their facts together for the Broder drive and they certainly didn't for me (maybe if you have the VP of Ownership Experience monitoring every move the results differ).  Further, one car had to undergo a 4.3 beta test (the rest of us are on  4.2), and I couldn't get a Bay to work which shows that while you can get from point A to point B without bricking – it is not without its pitfalls and perils (think of Oregon Trail for the 21st century).
I really enjoy my Tesla more than any other car I've owned ('78 LeSabre to '04 S4 convertible to '08 CLS and loads in between).  I wouldn't trade it in for anything – the combination of power, utility, bleeding edge technology, green cause (if there is enough of a carbon offset), is a perfect blend to me.  Beside, Tesla owners (en masse) are going to encounter issues, ones that just about all of us are willing to accept because we are buying more than a car:  We are buying "into" a new way of commuting, one with pioneering technology faults and all.  But let's not obfuscate the truth in an effort to show how great the car can be.
Regardless, it could be worse – I could own a Fisker.